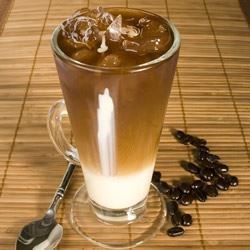 Here at Devour we're always looking for new and exciting ways to get our caffeine fix. And Vietnamese Iced Coffee has been one of our favorite ways to get that sweet black gold pumping through our veins.
This recipe (from
Allrecipes.com
) has everything we love in a cold coffee drink. It's easy to make, and tastes amazing:
Ingredients
4 cups water

1/2 cup dark roast ground coffee beans

1/2 cup sweetened condensed milk

16 ice cubes
Directions
Brew coffee with water using your preferred method to make brewed coffee. Spoon 2 tablespoons of sweetened condensed milk into each of 4 coffee cups. Pour 1 cup of fresh hot coffee into each cup, and stir to dissolve the milk.

Serve guests cups of coffee, and give each one a tall glass with 4 ice cubes, and a long handled spoon. Guests pour hot coffee over the ice cubes and stir briskly with the long handled spoon, making an agreeable clatter with the ice cubes to chill the coffee.
It's a great way to get your caffeine, and pairs amazingly well with a Devour Sandwich, of course. We make it with Pacori Coffee at home, but if there is enough interest we'll start serving in the Devour Cafe! So what do you think? Should Devour start making Vietnamese Iced Coffee? Let us know!